Lia Marie Johnson

Kids React Appearance

Yes

Teens React Appearance

Yes

First Appearance

Kids React to Viral Videos #1 (Double Rainbow, Obama Fail, Twin Rabbits, Snickers Halloween) (Kids React)

Teens React to Twilight (Teens React)

Latest Appearance

Kids React to Minecraft (Kids React)

Teens React to Crying Baby (Teens React)

Age

19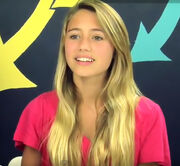 Lia Marie Johnson (born November 23, 1996) is one out of many teens on Teens React. She first appeared on Teens React to Twilight after she outaged Kids React in 2011.
Kids React (2010-2011) 
In mid 2011 TheFineBros announced that they would be starting a new show called Teens React and Lia would be graduating from Kids React to Teens React since she was going on to High School. In November Lia made her last appearance on Kids React with Kids React To Minecraft, then began filming for Teens React. 
Teens React (2011-2013)
The Thursday after Kids React to Minecraft came out, Teens React began airing on YouTube with Teens React to Twilight a few days before her 15th birthday. She remained on Teens React mostly through 2012. In 2013 however her appearances on Teens React began to steadily decline. On December 2013 Lia made her final appearance on Teens React to Emotional Baby. 
Afterwards
Lia now appears on Youtubers React after Teens React to Crying Baby, since her channel is growing views, subscribers, and even more.
Ad blocker interference detected!
Wikia is a free-to-use site that makes money from advertising. We have a modified experience for viewers using ad blockers

Wikia is not accessible if you've made further modifications. Remove the custom ad blocker rule(s) and the page will load as expected.