Troy Glass

Kids React Appearance

Yes

Teens React Appearance

Yes

First Appearance

Kids React to asdfmovie (Kids React)

Teens React to Anaconda (Teens React)

Latest Appearance

Kids React to Typewriters (Kids React)

TBA (Teens React)

Age

14
Troy Glass
(born July 27, 2000)
is one of the many teens on Teens React. He first appeared on Teens react to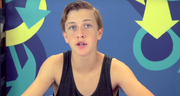 Anaconda after he outaged Kids React on 2014.
Kids React (2012-2014)
Troy made his first appearance on Kids React to asdfmovie and then made his last appearance on Kids React is Kids React to Typewriters and outage to Teens React.
Teens React (2014-Present)
Troy made his first appearance on Teens React on Teens React to Anaconda and has made a steady amount of appearance since then.
Ad blocker interference detected!
Wikia is a free-to-use site that makes money from advertising. We have a modified experience for viewers using ad blockers

Wikia is not accessible if you've made further modifications. Remove the custom ad blocker rule(s) and the page will load as expected.